Name: Prof. Hayley Fowler
Present position: Professor of Climate Change Impacts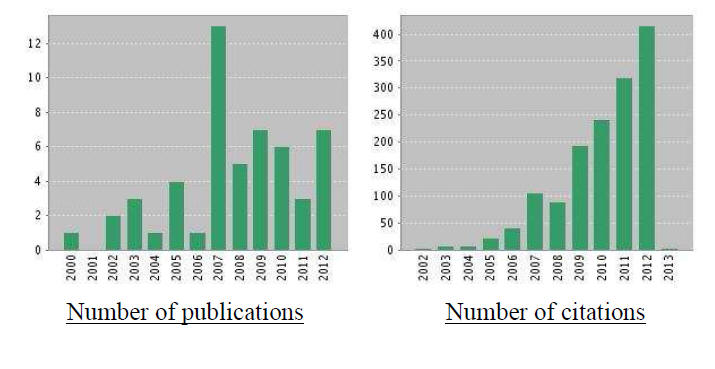 I conduct high-impact research in climate change impacts and have published 55 peer-reviewed papers (with 3 in press), with an overall H-index of 20, since 2000. Average of 27.3 citations per paper (6 articles with >50-citations; 1>200 citations), increasing recent trajectory, with 7 new submitted papers and about 415 citations/yr in 2012. Total of 1274 citations without self-citations; web of science, Jan 29 2013.
My key publications since 2000 estimate recent and projected changes to extreme rainfall and flood risk, for the first time using regional frequency analysis (Fowler and Kilsby, 2003a,b; Fowler et al., 2005; Ekström et al., 2005; Jones et al., 2012), examine recent (Fowler and Kilsby, 2002a) and projected changes to water resource and meteorological drought (Fowler and Kilsby 2002a,b, Fowler et al., 2003, 2007a; Blenkinsop and Fowler, 2007a,b; Manning et al., 2009; Goderniaux et al., 2011, 2012; Majone et al., 2012) and their drivers (Fowler and Kilsby, 2002b), develop novel probabilistic downscaling methods using multi-model ensembles of climate models to inform future projections of hydrological extremes (Fowler et al., 2007a,b; Fowler and Ekström, 2009; Manning et al., 2009) including the development of stochastic rainfall models with time-varying properties (Fowler et al., 2000, 2005; Burton et al., 2008, 2010a,b; van Vliet et al., 2012), bias-correction methods (Fowler et al., 2007b) and weather generators (Kilsby et al., 2007: precursor to UKCP09), determine when changes to regional precipitation extremes will be detectable using non-stationary GEV models (Fowler and Wilby, 2010; Fowler et al., 2010), the effect of climate model resolution on the simulation of precipitation (Chan et al., in press).
Employment History:
Aug 2012 - present Professor of Climate Change Impacts, School of Civil Engineering and Geosciences, Newcastle University, UK: work 70% FTE.
Aug 2008-Aug 2012 Reader in Climate Change Impacts, School of Civil Engineering and Geosciences, Newcastle University, UK: I was on maternity leave from May 2009 – May 2010, and May 2011-Apr 2012,
Oct 2006-09 NERC Postdoctoral Research Fellow
Nov 2007-Jan 2008 Visiting Scientist, Institute for the Study of Science and Environment, NCAR, Boulder, Colorado
Apr-Jun 2006 Visiting Scientist, ISSE, National Center for Atmospheric Research, Boulder, Colorado
| | |
| --- | --- |
| 2005-present | School Research Fellow |
| 2004-2008 | Senior Research Associate, School of Civil Engineering and Geosciences, Newcastle University, UK |
| 2001-2004 | Research Associate, School of Civil Engineering and Geosciences, Newcastle University, UK |
| 1997-2000 | Postgraduate Research Student and Teaching Assistant, Department of Civil Engineering, Newcastle University, UK |
| 1996 | Research Analyst, Bechtel Water Technology Ltd., Warrington, UK |
Education and Qualifications:
1997-2000

Ph.D. Water Resource Systems Research Laboratory, School of Civil Engineering and Geosciences, Newcastle University, UK. Funded by EPSRC and the Environment Agency in a CASE studentship.

"The impacts of climatic change and variability on water resources in Yorkshire"

This investigated both natural climatic variability and climate change in Yorkshire, quantifying the future risk of severe drought. Precipitation variability in Yorkshire was linked to synoptic weather patterns, and used in the development of a weather-driven spatial version of the Neyman-Scott stochastic rainfall model. Climate change impacts on water resources were investigated using modifications to weather type frequency and rainfall characteristics. Results indicated that increases in winter rainfall may increase average system reliability but significant increases in the magnitude and duration of severe drought may occur due to reduced summer rainfall and increased climatic variability. My Ph.D. research has resulted in the publication of four international journal papers plus one pending, as well as conference papers

1996-1997

MSc. Water Resource Systems Engineering (Distinction), Department of Civil Engineering, Newcastle University, UK. Funded by NERC. Thesis: "Generating synthetic daily flow sequences for rivers in Yorkshire using stochastic rainfall models."

1993-1996

Geography BA Hons. (first class) Fitzwillam College, Cambridge University, UK. Thesis: "Numerical modelling of the downstream propagation of organic matter." (first class)

Received prizes: Phillip Lake Prize 1996 (best physical geographer in Finals)

Cockle Prize 1996 (best geographer at Fitzwilliam College)

1912 Senior Scholarship 1996-1997
Professional recognition:
Awards: Philip Leverhulme Prize (2011), £70,000; NERC Postdoctoral Fellowship (2006-2010)
Member: NERC Peer Review College (2010–); British Hydrological Society (BHS) Committee (2004–06) and BHS Honorary Secretary (2006–08); European and American Geophysical Unions (2006–)
Chair: IMAGe Theme of the Year 2012, NCAR - Uncertainty in Climate Change Research: An Integrated Approach (budget $125K); 31 participants in summer school/workshop – also lecturer; session chair at 2006 EGU General Assembly and 2007 AGU Fall Assembly.
Expert reviewer: NSF, CFCAS, NERC, EPSRC, Irish EPA, IPCC AR4 (WGI and WGII), > 30 journals ISI-cited. Guest edited 2 Special Issues of International Journal of Climatology and 1 Hydrology Research.
Knowledge transfer experience: Expert consultations on extreme rainfall and climate change impacts: Environment Agency; Royal Haskoning; NWL; Willis Re.
Projects:
Funding source

Title

Brief summary of role

Value

Start

End

Leverhulme Trust

Philip Leverhulme Prize 2011

Principal Investigator

£70,000

Feb 2012

Jan 2015

NERC CWC

Using Observational Evidence and Process Understanding to Improve Predictions of Extreme Rainfall Change

Principal Investigator

£415,632

Feb 2011

July

2014

EU FP7

ECLISE: Enabling CLimate Information Services for Europe

Principal Investigator at Newcastle University

£180,357

2011

2014

British Council

Development of water scarcity management strategies based on seasonal flow forecasting through improved understanding of snowmelt runoff mechanisms in the Upper Indus Basin

Principal Investigator

£74,908

Apr 2009

Mar 2012

EPSRC Platform Grant

Earth systems engineering: sustainable systems engineering for adapting to global change

Co-Investigator

£1,312,129

Oct 2008

Sep 2013

British Council

Seasonal hydrological forecasting for water resources management in the Hindu Kush-Karakoram-Himalaya region (upper Indus basin)

Principal Investigator

£35,642

Jul 2008

Mar

2011

EPSRC

SWERVE (Severe Weather Events Risk and Vulnerability Estimator) – part of CREW (Community Resilience to Extreme Weather) Programme

Principal Investigator

£558,445

(Newcastle: £240,560)

May 2008

Nov 2011

European Space Agency

Assimilation of Altimetric River Data into Hydrological Model VIC

Co-Investigator

£24,700

Nov 2007

Jun 2008

DEFRA

UKCIP08 Weather Generator

Co-Investigator

£185,840

Jan 2007

Dec 2010

NERC FREE

FRACAS: a next generation national Flood Risk Assessment under climate ChAnge Scenarios

Co-Investigator

£204,382

Apr 2007

Jul 2010

NERC Postdoctoral Fellowship

Is flood risk increasing? Exploring the relationship between atmospheric circulation, extreme rainfall and flooding

Principal Investigator

£221,711

Oct 2006

Mar 2011

European Framework VI STREP

FOOTPRINT

Principal Investigator at Newcastle University

£27,600

Jan 2006

Dec 2008

European Framework VI Integrated Project (505428 (GOCE))

AquaTerra "Integrated modelling of the river-sediment-soil-groundwater system; advanced tools for the management of catchment areas and river basins in the context of global change"

Principal Investigator at Newcastle University and leading the HYDRO sub-project within the IP (worth €1M). Member of the project Steering Committee.

£250,000

Jun 2004

May 2009

Environment Agency (14490 R&D (X1-045/5)

Environmental Effects of Agriculture & Land Use: Weather Generator Tool

Co-Investigator

Apr 2005

Apr 2006

EPSRC/UKCIP

BETWIXT "Rainfall scenarios for climate change in the Built Environment"

Named Researcher

Dec 2003

Feb 2006

European Framework V

SWURVE "Sustainable Water, Uncertainty, Risk and Vulnerability in Europe"

Named Researcher

Jan

2000

Feb

2004
Conference Convening/Organisation:
Main Organising Committee for BHS Third International Symposium: Role of Hydrology in Managing Consequences of a Changing Global Environment, Newcastle upon Tyne, July 2010.

Organising Committee for 9th BHS Symposium, Durham, September, 2006.

Organised BHS-FloodRiskNet day meeting on ""Recent advances in Flood Risk Mapping", Newcastle University, Nov 2005.

Convened a session at the 2006 EGU, Vienna "Linking climate change modelling to impacts studies: downscaling techniques for hydrological impact studies."
Reviewer and Editorships:
Member of NERC Peer Review College, 2010-2014
Reviewed proposals for:
National Science Foundation (Climate Dynamics Programme),
Canadian Foundation for Climate and Atmospheric Sciences (CFCAS),
NERC Freshwater,
Fellowship proposals for the Irish Environmental Protection Agency
Swiss Research Council
Expert reviewer for IPCC Working Group I 4th Assessment Report
Expert reviewer for IPCC Working Group II 4th Assessment Report
Review papers for:
Advances in Water Resources
Atmospheric Research
Climate Research
Climatic Change
Environmetrics
Geophysical Research Letters
Hydrogeology Journal
Hydrological Processes
Hydrological Sciences Journal
Hydrology and Earth System Sciences
Hydrology Research
International Journal of Climatology
Journal of Applied Meteorology
Journal of Climate
Journal of Environmental Informatics
Journal of Geophysical Research - Atmospheres
Journal of Hydrology
Journal of Hydrometeorology
Meteorologische Zeitschrift
Natural Hazards
Philosophical Transactions of the Royal Society
Physics and Chemistry of the Earth
Quarterly Journal of the Royal Meteorological Society
Regional Environmental Change
Studia Geophysica et Geodaetica
Transactions
Water International
Water Resources Research
Editorships:
Associate Editor - Studia Geophysica et Geodaetica
Editor of Special Issue of International Journal of Climatology on "Downscaling for Hydrological Impact Studies"
Editor of Special Issue of International Journal of Climatology on "Extremes"
Editor of Special Issue of Hydrology Research
PhD Examinations
External Examiner:
Fiona Johnson, School of Civil and Environmental Engineering, The University of New South Wales, Australia; "Evaluating and enhancing General Circulation Model simulations for water resources climate change impact assessments", 10th June 2010.
Nor Aizam Adnan, School of Geography, University of Southampton, "Quantifying the Impacts of Climate and Land Use Changes on the Hydrological Response of a Monsoon Catchment", 7th March 2011.
Internal Examiner:
Mark E Wilkinson, School of Civil Engineering and Geosciences, Newcastle University, "A multiscale nested experiment for understanding and prediction of high rainfall and flood response spatial behaviour in the Eden catchment, Cumbria, UK", 21st November 2008.
Andrew J. Collier, School of Civil Engineering and Geosciences, Newcastle University, "Extreme value analysis of non-stationary processes – A study of extreme rainfall under changing climate", 9th March 2011.
PhD Students:
Completed:
2004-2009: Andrew Smith: A national scale rainfall analysis and event-based model of extremes for the UK.
2007-2011: Jamie Ledingham: The estimation of flood frequency curves by mapping from rainfall frequency curves.
2008-2012: Mari Jones: Characterising and modelling time-varying rainfall extremes and their climatic drivers.
2008-2013: Nathan Forsythe: Investigating the impact of climate change on hydro-climatological variability and water resources in the Upper Indus Basin.
Current (start date):
2007: Alex Leathard: A Water Grid for the UK
2007: Vesna Tripkovic: Quantifying and upscaling surface and subsurface runoff and nutrient flows under climate variability.
2009: Selma De Brito Guerreiro: Climate change and water resources in Iberia
2011: Elizabeth Lewis: Developing UK wide hydrological models for climate change impacts and analysis of floods and droughts
2011: Blanca Garcia Navarrete: Broad scale urban flood risk analysis for climate impacts and adaptation
Press Coverage:
8th February 2005
Articles in The Scotsman, The Herald and the Aberdeen Press and Journal
Article in the Times Online
Article in EU Politics Today: Research News
Live interview on BBC Radio Scotland on the 'Good Morning Scotland' programme 06:55
Interview with Radio Borders (pre-recorded)
Interview with the Newcastle Journal
9th February 2005
Article in the Aberdeen Evening Express
Appearance on Grampian TV evening news.
Interview with BBC Scotland (TV) and Forth1 FM
April 2005
Article in Land Business, Magazine of the Scottish Rural Property and Business Association
October 2005
Article in Sunday Sun
September 2006
Massive coverage in all national papers of extreme rainfall work
Large coverage internationally of Karakoram research
Work covered in the Rough Guide to Climate Change
Extreme rainfall work presented as evidence in Parliamentary Debate on 16th November 2006
Public Engagement:
I have been engaged with the public on climate change through many lectures and fora (e.g., Café Scientifique, NE Climate Change Conference, British Science Festival, etc.). I am also frequently interviewed by media (including BBC, National Geographic Magazine, national newspapers and radio etc.).
Research Grants and Other Awards