Scandinavian painting at the turn of the century

Here are some paintings from the exhibition 'Dreams of a Summer Night' held at the Hayward Gallery, London, in 1986.



Harald Sohlberg
1869-1935, Norway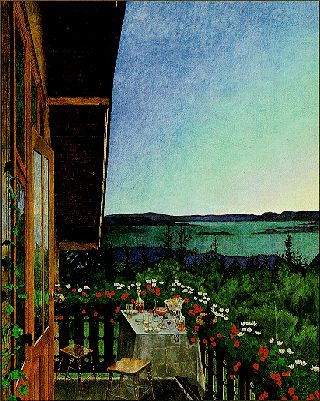 Summer Night, 1899 (detail)

'At the time Sohlberg started on this work, he had taken a small apartment in Nordstrand, an eastern suburb of Christiania [Oslo]. The view is from his balcony looking westwards across Christiania Fjord … We experience the tension between the immediate foreground and the infinitely distant: carefuly studied details are seen against the irreducible immensity of space, represented by the magically luminous sky of the Norwegian summer night. The painting is thought to commemorate the artist's engagement. The table is laid for two and a lady's hat and gloves lie carelessly among the paraphernalia of youth, love and pleasure.'
Richard Bergh
1858-1919, Sweden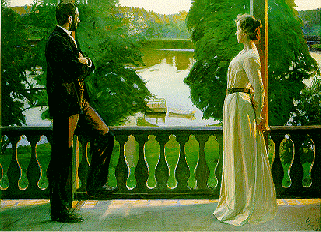 Nordic Summer Evening, 1899-1900


Akseli Gallen-Kallela
1865-1931, Finland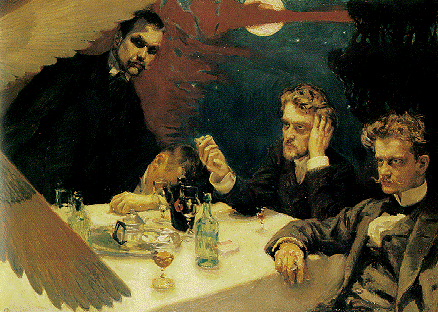 Symposium (The Problem), 1894

After dinner at the Hotel Kämp, the artist and his friends, all members of the Young Finland movement, discuss 'the deepest questions of life'. From left: Akseli Gallen-Kallela, Oskar Merikanto, the composers Robert Kajanus and Jean Sibelius. Kajanus is drawing the others' attention to a 'beautiful vision' - depicted by the artist in the flutter of the wings of the Egyptian god Osiris on the left of the picture.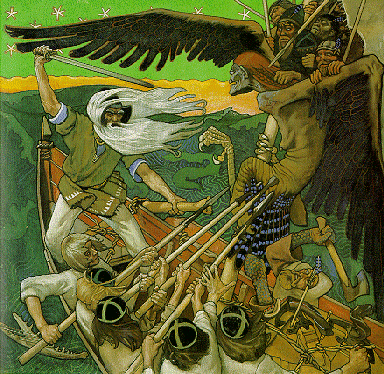 The Defence of the Sampo, 1896

The picture, based on the Kalevala epic, shows the decisive battle between two tribes for a magical machine, the mysterious Sampo, which brings luck. The heroes Wäinämöinen (with sword) and Lemminkäinen (with axe) have recovered the Sampo from their arch-enemy Louhi, 'the toothless mistress of Pohjola'. In the struggle, she has been transformed into a bird.
'The Defence of the Sampo was given a surprisingly positive reception. It seemed finally to decide the question of whether a sufficiently decorative pictorial form could be found for ancient Finnish mythology. The work was shown at the Stockholm Exhibition in 1897 … and later represented the national style typical of Scandinavia at the programmatic exhibitions of turn-of -the-century art on the Continent.'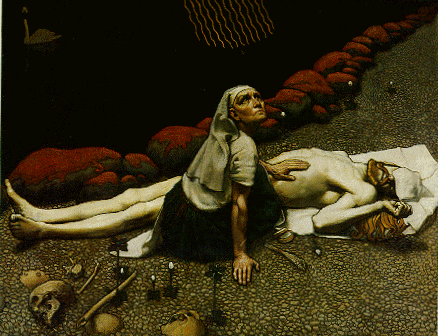 Lemminkäinen's Mother, 1897

'Lemminkäinen, hero and poet, wanted to master the secret of death by shooting the swan of Tuonela, the kingdom of death. Now he lies defeated beside the blood-red stones of Tuonela. The swan, the symbol of death's eternal secret, swims away majestically on the dark river'.

The model was Gallen-Kallela's own mother. 'In order to get his mother's face to express real pain, Gallen-Kallela told her horrifying stories as he painted. Lemminkäinen's Mother is, as a whole, perhaps the most profound example of Gallen-Kallela's Kalevala mysticism, which linked the Finnish national epic with the oldest myths of mankind. The painting thus combines a universal mysticism with Finnish national aspirations, and in form as well as content is a masterly work of art.'