HIS 256: GERMANY FROM REICH TO REVOLUTION: MARCH TO FINCHLEY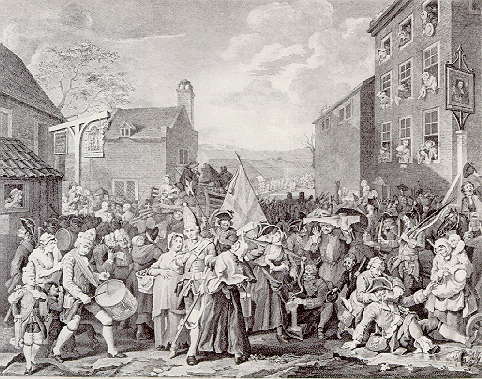 The March To Finchley
This is an engraving by William Hogarth, first produced in December 1750, five years after the 1745 Jacobite Rebellion. It is said to be a satire linked with the attempt to introduce stricter discipline in the British army, on the model of the army of Frederick II ('the Great') of Prussia. Hogarth dedicated many versions of the engraving to Frederick.
The engraving purports to show the march of the English Foot Guards against the Pretender. George II, who is said to have been proud of the Guards, apparently refused to accept the original dedication by Hogarth.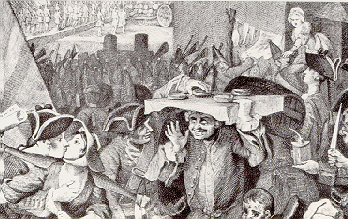 This is a detail from the above engraving. The above text was taken from Joseph Burke and Colin Caldwell, eds., Hogarth. The Complete Engravings.
---
Documents in German History Project: War and Society in Eighteenth-Century Germany