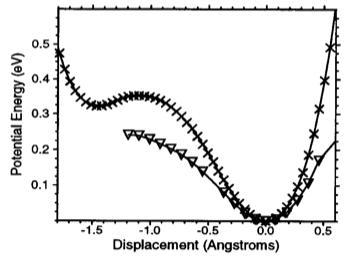 Ni complexes in diamond
Materials Science Forum
196–201
67–71
1995
Spin-polarised local density functional cluster calculations are carried out on isolated interstitial (Ni+
i) and substitutional (Ni−
s, Ni+
s) impurities in diamond and on Ni+
i–B−
s, Ni+
s–B−
s and Ni−
s–N+
s complexes. Ni+
i (S=1/2) lies at the Td site. Ni−
s (S=3/2) is shown to be stable and remains on-site in agreement with experimental results. Donor-acceptor complexes of Ni, namely Ni+
i–B−
s, Ni+
s–B−
s and Ni−
s–N+
s are stable trigonal defects which have a number of gap levels. Optical transitions are expected between some of these levels. We argue that there is no convincing evidence for Nii defects.
Go back