The Early Years
---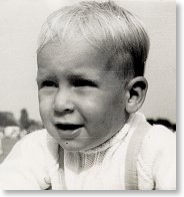 I was born, at an early age, on a trolley being wheeled to the labour ward in Bristol, possibly the last time I ever rushed to do anything. I was the last of three children, being preceded by a brother, Bruce, and a sister, Penny. The most remarkable things about myself as a baby seemed to be that I was 'very long' and looked like Bobby Charlton - apparently, strangers would stop my parents in the street to comment on the latter without knowing my surname. Perhaps it was the comb-over hair that did it.
---
The Cute Years
---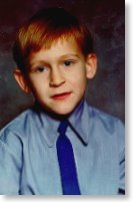 Anyway, I grew up and went to Infant and Junior School in Backwell, a small village a few miles from Bristol. So small, in fact, that we thought that Nailsea was a pretty racy place. Actually, it was/is a charming place, with plenty of woods and fields that, in those days, small children were allowed to explore without the aid of a parent and a 4x4 car. On my last visit, it hadn't changed a bit, residing firmly in the 1950s. And, overall, I think that's a Good Thing.

(Incidentally, this is the age at which I was declared to be a 'lovely little boy', a measure of appreciation which I never again managed to attain.)
---
The Helmet Years
---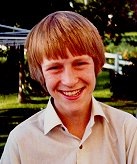 My family moved to Penicuik, a town 10 miles South of Edinburgh when I was ten, and I stayed there until I went to University in Newcastle. It was a definite step up in facilities from Backwell - chip shops, a small cinema, a putting green, etc. - and was a more fun place to be an adolescent. Due to my ever-present and precocious self-awareness, I never managed to convincingly develop a Scottish accent which, despite what people say, means that you never feel truly at home in Scotland (which is a wonderful place, I might add). So, I grew up with confused feelings about my Nationality, which were only resolved when I settled in Newcastle and felt that here was home (both my parents are Northumbrian, and the Charlton family comes from round here).
---

The Bearded Years
---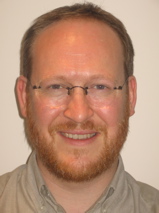 And here I've stayed... From Medical School to House Jobs to research in Microbiology to the dole to Histopathology. I've never really regretted not moving, although plenty of people have tried to make me feel guilty about it, as it means that I have been able to cultivate a large and disparate (desperate?) group of friends, as well as being able to indulge in acting and writing for the theatre in a manner impossible without good contacts (see other pages)... There is also an enormous amount of pleasure to be had from knowing a place really well...


I should mention that I am now married to another histopathologist, Petra, and we have a daughter, Philippa (Pippa for short), who was born in 2002. I've promised them that they won't be seen on my web site!