IT and the Historian: Week 5: Word 97, inserting footnotes and tables
The first thing you should do is to save this lesson as a Bookmark. Then you can always go back to it easily. You can always print it out at any UCS printer station.
CONTENTS:
Hints on using Word for Windows
Adding tables to Word 97 documents
Inserting footnotes and page numbers
---

Today we will do a short exercise using Microsoft Word 97. In older clusters in the University, you will still find Word 6.0. This lesson was originally written for Word 6.0. There are some minor differences between the two versions, which your course leaders can tell you about, if necessary. The really important thing to remember is this: Word 97 can read Word 6.0 files. Word 6.0 read Word 97 files. To move work from Word 97 to Word 6.0, therefore, you should use the File Save As facility in Word 97 to save to the lower version of Word.


Word 97 is very easy to use.

You can select text with the mouse in the usual way. Once selected, it is simple to cut, copy and paste text using the Control keys or the universal buttons.

.

Once text is selected you can also alter its appearance by using the formatting buttons

.
It is also extremely easy to insert pictures, footnotes, page numbers and symbols using the pull down Insert menu, which should look something like this: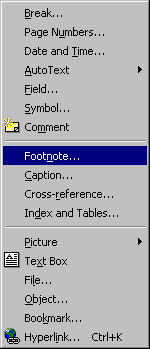 ---
Today' exercise is basically to get your Word for Windows skills brushed up. To that end I want you to do two things:

Firstly, you should open Word for Windows and type in about three paragraphs of text. This should be your memory of Professor Moore's or Porter's last lecture in Historical Perspectives and Techniques. I want you to insert a footnote or two into your paragraphs, which should be bibliographic references taken from that week's recommended reading. This should teach you something about the value and importance of oral history and the power of memory, especially your memory.
---
Secondly, I want you to add a table to your document.
This link tells you how to add tables in Word 97. You can cut and paste the information, or simply copy it, from this digest of the London Bills of Mortality. This gives the number of burials every year. Using the table facility construct a two column table and type out about twenty years of burials. Put the year in the left hand column and the total number of burials in the right hand column. Each column should have a separate heading describing its contents, eg. Year and Burials. Try formatting it so that the table gridlines are displayed and will print out.
Save your document. It will be needed in next week's exercise.

Hint: you can paste the entire table from the web version straight into Word 97! Once you have done this, select the whole thing and then use the Table, Convert Text to Table Facility. When you get the dialogue box, choose 2 columns and press return. You should get a huge two column table that you can then resize. You may also need to use Format Borders, choosing Grid.
There is no formal assessment this week.
---
Useful UCS web pages on Microsoft Word and its versions. Do try and pick up the relevant guides:

Writing an Essay Using Word 97 (Sep 98) Guide 125
Word 97 Hints and Tips ( Sep 98) NT5