Undergraduate Teaching
Memory, Language and Cognition to 2nd year Medical Students
Language and Communication to 2nd year Psychology students on the Comparative Cognition Course
Neurobiology and frontal disoders
Perception and Cognition for Psychology and Biomedical Science students
Postgraduate Teaching
Animal Behaviour module for Masters students
Cognitive Neuroscience seminars to post-graduate students
Teaching Innovation and Recognition: Newcastle Teaching Excellence Award (2013) – for Innovative Teaching Methods (to C. Petkov, A. Attaheri, and R. Muers); Nomination (2014).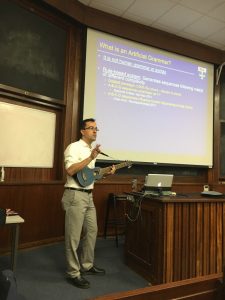 Laboratory PhD graduation ceremony
The Laboratory of Comparative Neuropsychology has a unique PhD completion ritual that symbolizes the different stages of a PhD student's doctoral work and the support of their supervisors and laboratory team. PhD students in the lab are not officially doctors without having gone through the lab ritual on the Marley Harley and kissed the statue of Charlie Schroeder to signify their commitment to the core principles of "science, discovery, creativity, objectivity, rigour, innovation and animal welfare" in all of their work.
This is what one of them said about the ritual.
"It was actually a lot of fun (honest)." – Dr. Ross Muers