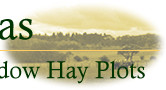 Other Long-term Sites
There were originally a considerable number of other long-term experiments at Cockle park but the others were all terminated in the 1950s. The others are shown on the plan of the farm and include Tree Field and Hanging Leaves grazing experiments, and the Rotation Plots with a Norfolk Four Course Rotation. The data for these experiments is still held here at Newcastle and much of it has been published. Contact Dr Shiel for further details.
Palace Leas meadow hay plots is one of a large number of long term sites throughout the world and you are referred also to the SOMNET site at Rothamsted Experimental Station which has data from many of them.